The deal you wished and hoped for is here. Our newest, sweetest, nostalgia-iest platform boot is $50 off.
Hurry: add to cart.
0
0
:
0
0
:
0
0

The Original Jelly Shoe

Bubblegum Scent

Sustainable

Comfortable

Recyclable

Durable

Vegan & Cruelty Free

Waterproof
Styles You'll Love
Cue the Spotlight
20+ COLORS • THE OG JELLY • COMFY FIT
There can only be one icon. The Possession is the OG fisherman style jelly, circa '79.
Shop the style
Platform Beauty
5 COLORS • LIGHTWEIGHT • 70S-INSPIRED
Sweet and romantic. Yet bold and daring. Farah is back in a brand new color.
Shop the style
HIKARU MATSUMURA
1 Piece • Reversible Tote
A luxurious reversible tote that combines Melissa's custom Melflex with HIKARU MATSUMURA's signature geometric patterned design.
shop the collab
Telfar
4 Pieces • Luxury Jelly
Say what you mean. Feel what you say. Do and be whatever you want. All options are open in our most fluid collab yet.
Shop the collab
Marc Jacobs
3 Pieces • Streetwise Style
Classic Melissa DNA + Marc Jacobs signature streetwise style and embossed monogram. Together at last.
Shop the collab
Jean Paul Gaultier
2 Pieces • Sinfully Seductive
Celebrating 40 years of punk-love collab with the fierce, the fearless: Jean Paul Gaultier. Think romance + goth, together in perfect harmony.
Shop the collab
SUSTAINABLE TO OUR VERY SOLE
Sustainable to
Our Very Sole
For us, green isn't a buzzword. It's a way of life. From our manufacturing process to our packaging to the soles of our shoes, we're committed to doing right by people and planet.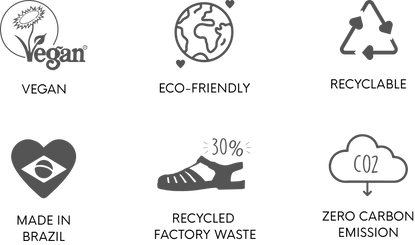 Why You'll Love Melissa
Don't take our word for it! Our reviews speak for themselves.
Filter by topic:
All
comfort
style
fit
durability
Best jellies!
These are the best! I have never had a blister and they made my feet smell good! They are very comfortable too!
So fun and comfy
I was happily surprised by these shoes. I've gotten so many compliments on them. They are comfy and light and add color to my white summer outfits.
Classic throwback jelly
Love them! They're a nice matte black and look very classy. They're even more comfortable than the original jellies. I will probably buy them in a few more colors.
LOVE!
I love my new Melissa Possession Platform shoes. SO cute and super comfortable. I walked all over San Diego wearing them. I really like the platform style. I wear a size 5 and they fit great!
Prepare for compliments!
I bought the blue pair and I was very happy with the color and the cute Mary Jane style. You'll be getting compliments all day trust me.
Love Them!
The most comfortable stylish shoe I've ever bought... will buy more colors!